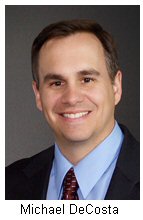 I agree with Russell Lawson's post on his Progressive Marketing blog, concluding that for marketers, it's not important what your title is. What counts is whom you report to.
The coveted title for law firm marketers has been Chief Marketing Officer. But according to Korn/Ferry's Michael DeCosta: Moving from a director to chief title typically suggests a move, albeit subtle, from a tactical to a more strategic approach to a function -- and almost always, with the title change comes increased responsibilities. In some circumstances, the title is irrelevant in terms of scope of duties. Either way, one can anticipate expectations around your performance and contribution to notch up with the new title.
Yet, the "value" of the title is being weakened by the new trend of presenting C-level titles to tactical, non-strategic employees in law firms, as DeCosta references in his article: chief receptionist officer, chief of business continuity, chief of client excellence and chief ambassador
-- as noted by
Heather Milligan
.
"But I doubt that "Chief" anything actually designates an influencer by the conveyance of the title," Lawson writes. " In law firm marketing, the more important part of the hiring process is the negotiation that defines the reporting lines in place for these bigwigs. Only by reporting to the managing partner can a marketer achieve real influence and even that requires that a good relationship exist between these two thought leaders."