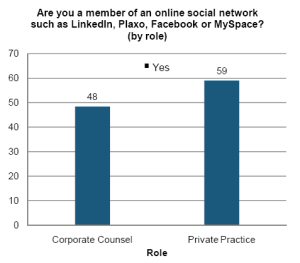 In a significant new trend, almost 2 out of 3 lawyers in private practice are now using online networks for professional and business development purposes.
In-house counsel have joined the trend too, with 48% of in-house counsel becoming a member of an online social network.
The 2008 Networks for Counsel Survey, conducted by Leader Networks – a consultancy that helps businesses foster online social networks – and commissioned by LexisNexis Martindale-Hubbell – an online directory with law firm marketing features – is the first survey of its scope to examine the social networking practices of legal professionals.
To get your free copy of the report, click here (registration required).
Predictably, it's the lawyers aged 25-35 who have adapted most quickly. 67 percent of 25-35 year olds, 49 percent of 36-45 year olds, and 36 percent of 46-55+ year olds reported membership in an online social network.
Use of online networking for professional purposes (as opposed personal uses like staying in touch with friends) increase with age. Interestingly, corporate counsel are more than three times more likely to use their network for professional reasons.

But what lawyers really want is an online social network for lawyers only, like the members of the State Bar of Texas have. 41% of lawyers in private practice, and 48% of in-house lawyers are interested in joining a lawyers-only network.
For the rest of the story, visit the LawMarketing Portal at www.lawmarketing.com .