Law firm marketers can now monitor the websites of dozens of competing law firms each day with the
Watch360 Website Monitoring Service.
The service notifies subscribers when other law firms update their websites with new information about their client wins, deals, media coverage, publications, management changes, and more.
According to founder Srikanth Chari of Saratoga, CA, it is being used at Morrison Foerster, Wilson Sonsini Goodrich and Rosati, Latham and Watkins, Shearman Sterling, Ober Kaler, Goodwin Proctor, Freid Frank, Nexsen Pruet, Much Shelist, among others.
Watch360 automatically monitors the websites of law firms you specify, and delivers one consolidated email each morning with the new information it finds.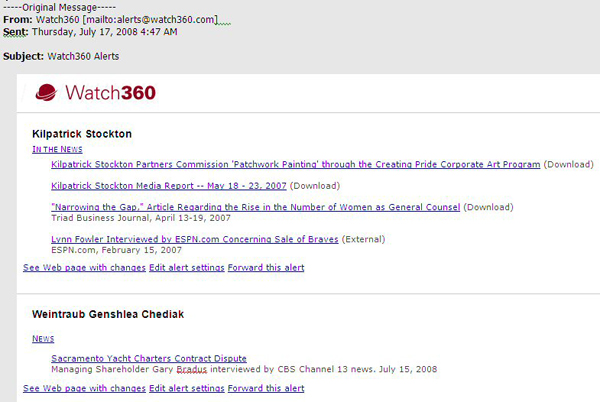 Watch360's Website Monitoring Service is fully customizable and is a hassle-free way to gather competitive intelligence. It costs less than $500 per year to monitor up to 30 companies, and you can have an unlimited number of recipients per account. You can try it now, free for 2 weeks.