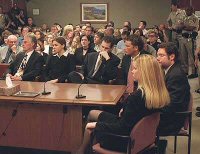 If you are a litigator, the best way to get new clients is to market yourself as a risk reducer and problem avoider. Most litigators make the mistake of marketing themselves as fire-breathing trial lawyers. But the better approach is to say that you will keep clients out of court, save them from even having to answer a lawsuit, and prevent them from having to appear at a deposition.
This is counter-intuitive for litigators, who thrive in the courtroom and strive to amass a record of successful verdicts. Litigators know that their reputation among other lawyers rides on their ability to try a case and win it. It makes them fearsome and respected attorneys within the bar.
Clients, however, don't want to go to court. They don't want to hear that you'll take the case all the way to the Supreme Court and rack up a series of reported decisions. This costs a fortune and clients as a rule don't want to spend their money on litigation. Instead they'll pressure their lawyers to settle a case and resolve the dispute.
This point was underscored by an article "The Cost of Not Settling a Lawsuit" in the August 8, 2008 New York Times: more than 80% of all lawsuits settle. Further, in only 15% of cases that went to trial did the plaintiff get an award that exceeded a settlement offer, or did the defendant pay less than the plaintiff's final demand.
The statistics are based on a study by DecisionSet, a consulting firm that advises clients on litigation decisions. "The lesson for plaintiffs is, in the vast majority of cases, they are perceiving the defendant's offer to be half a loaf when in fact it is an entire loaf or more," said Randall L. Kiser, a co-author of the study and principal analyst at DecisionSet.
The business development lesson is clear: if you want more corporate clients, impress them with your ability to settle a case.