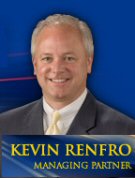 One of the most successful law firm marketing gambits this year was the 99-cent gas giveaway by Kentucky personal injury attorney Kevin Renfro and the Becker Law Office.
He achieved all his marketing goals:
He "separated himself from the herd" of other lawyers.
He gained national publicity online, in print and on TV.
He made people feel good about him and put his firm in a good light as a community supporter.
"There are lots of advertising lawyers in Louisville," he told me in an interview, "and no one else was doing these kinds of PR things."
Here was the deal: the first 250 people who lined up at the Chevron on Broadway and Baxter in Louisville, KY, back in July could get up to $15 in gas for 99 cents per gallon and the Becker law firm would pay the difference. There was no catch -- no obligation to become a client of the firm. He timed it perfectly: it was a beautiful summer day, it was the date a new state gas tax went into effect, gas was at an all-time high ($4.30) and the Fourth of July weekend was starting.
"This is a real feel-good story," Renfro said. "People waited for hours to save $50 and said it was a godsend to some of them. Everybody was so happy. The First person in line that now that he had gas, he could drive out to find a job." News helicopters hovered over the gas station for most of the day as the line of cars stretched for a mile.
Renfro was on the scene in a red-white-and-blue tie, shaking drivers' hands and giving out T shirts, water bottles and his new flier with his picture, discussing fireworks safety. Meanwhile he gave interviews to all the local TV station and was on talk radio all day. The story was picked up by national magazines and newspapers.
"The only thing I feared was the headline saying, "Kevin Renfro gives me gas" he joked.