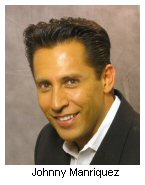 Hosting seminars and giving speeches are good marketing tactics, according to Sales Attorney Johnny Manriquez. But they won't generate new business if lawyers fail to follow up or wait for the phone to ring.
Johnny Manriquez, Esq., is the Sales Attorney for Scholefield Associates, P.C. in San Diego, CA. He heads the firm's business development department and functions and is directly responsible for client development and support; networking with construction industry executives; and developing client management programs.
Hosting informative seminars, booking speaking engagements, and participating in trade group meetings are great marketing avenues that can substantially build firm awareness and ultimately lead to increased business. In fact, the results of these activities should be directly measured to evaluate the overall effectiveness of a firm's marketing plan.
However, many lawyers fail to take the logical next steps:
Further qualifying the attendees and asking for future business. This omission may short circuit a firm's sales opportunities without the partners even knowing what they did wrong.
Ignoring or taking a passive approach to earning new business. This complicate matters further and perpetuates the "we will wait for them to call us" mentality that permeates the legal industry and cripples marketing efforts and initiatives vital to a firm's success.
Writing on the LawMarketing Portal, he said he reported a shocking discovery
To illustrate this point, let me share a recent experience. You can imagine the sheer excitement when I landed my ultimate dream job. Yes, I was hired to work as a sales attorney and acquire new business for our growing construction law firm. The first order of business was to bring me up to speed on emerging issues in construction and contract law by giving me a broad overview via an MCLE approved seminar provider. Great idea? Well, I did get a great thumbnail sketch of the construction industry and was pointed to the major contractual hot points, but what I learned from that seminar was far more revealing, almost shocking and it had nothing to do with construction.
What stood out the most was that the attorneys who were presenting the seminar failed completely at asking the attendees (a great source of qualified leads) for new business, follow-up meetings or trying to learn more about why each prospect attended their seminar. They certainly didn't build any interest in their firm's services by only focusing on their seminar topic and not addressing the potential needs of each attendee!
...for the rest of the story, see his article Avoid the Cost of Failing to Follow Up after Seminars on the LawMarketing Portal.