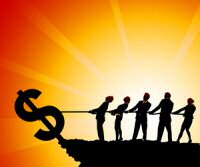 As the law firm recession enters its second year, new research shows that corporations are sending less work outside, rate increases will be smaller in 2008 than in the past, and 40%+ corporations have fired some of their law firms.
The new research reveals that one reason for the economic downturn in the legal profession is that corporations are sending less legal work to law firms, and handling more work by in-house lawyers. Median spending on outside counsel last year fell 9.1 percent. Making matters worse:
The legal profession has been in a recession for one year now, as evidenced by high-profile layoffs at major law firms.
Rate increases for 2008 will be smaller than in the past.
More than 40%+ of corporations have fired some of their outside counsel during the prior year.
The 2008 ACC/Serengeti Managing Outside Counsel Survey found that median spending on outside counsel was at the lowest level in the eight years the survey has been conducted. "A growing amount of work being kept in-house, this year's median spending on outside counsel continues a downward trend begun last year, falling to the lowest in survey history. This year's median outside counsel spending was $1 million (compared with $1.1 million in 2006, $1.8 million in 2005, $1.3 million in 2004, $1.6 million in 2003, $1.2 million in 2002 and $1.1 million in 2001)."
"Median outside counsel spending continues to vary significantly according to the size of the company, with:
Small companies at $350,000
Medium companies at $852,000
Large companies at $4.8 million," it reported.
The primary driver of corporate legal costs is outside legal spending, which is roughly double the spending on in-house counsel. However, during the past several years the ratio has shifted in favor of law departments, reflecting the increasing recognition of the value of in-house counsel and the legal work being done in-house.
For the rest of the story, visit the LawMarketing Portal at www.lawmarketing.com.