Get More Clients.
Make More Money.
In response to the bleak news about the economic prospects for the legal profession, smart law firms are training their lawyers to bring in new business. A new survey by The BTI Consulting Group of Boston found that 85% of law firms offer formal sales and business development training to their lawyers.
"A rising level of new income solves all sorts of problems," said a law firm managing partner in California, where I'm conducting a one-year sales training program.
The special BTI report, "BTI's Benchmarking Law Firm Marketing and Business Development Strategies, was released to members of the Legal Sales and Service Organization (LSSO), an organization I highly recommend you join. According to the report, law firms are still devoting 2.1% to 2.6% of gross revenues on their complete marketing budget, including salaries. This figure has remained constant for several years.
Big firms spend more: the average marketing budget for an AmLaw 100 law firm is $9.83 million, or $59,800 per equity partner. For the AmLaw second 100, the average marketing budget is $4.08 million, or $42,600 per equity partner.
Put another way, the average marketing spend per attorney (partners and associates combined) is $14,500 for law firms of all sizes combined.
Marketing budgets include many things ranging from salaries to business development to advertising and public relations. Focusing just on the business development budget, law firms budget as follows:
Client relationship development: 29%
Training: 18%
Consulting services: 9%
Practice-specific seminars: 8%
Public relations: 5%
Research: 5%
The chart below illustrates that law firms are focusing in the right place: getting new files from current clients.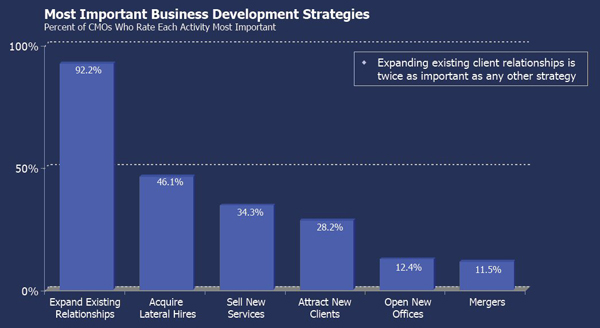 This highlights three trends:
Firms focus on getting to know clients better—a proven differentiator and business development tool.
AmLaw101-200 firms invest in more training—looking to lawyers to develop more business.
Mid-sized firms also leverage more outside resources such as consulting services.
Business development is the top goal for 43% of CMOs for this year, reflecting a major shift from the previous year when business development was the top goal for only 27% of CMOs.
BTI's report reflects 600 individual interviews conducted over a 4-year span, including more than 100 brand new interviews with CMO's at the world's largest law firms (55.0% of the AmLaw100 and 52.5% of the AmLaw200).