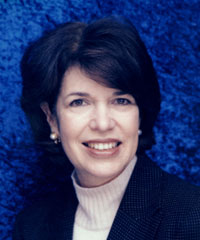 Several lawyers lawyer made the list in today's "50 women to Watch" section of the Wall Street Journal, and the only practicing lawyer is Marcia Goldstein of Weil, Gotshal & Manges. "
"Marcia Goldstein sits atop what is arguably the hottest legal practice of the moment," the newspaper says. "The New York lawyer is head of bankruptcy and restructuring at Weil, Gotshal & Manges LLP, which has long advised many of the nation's biggest debtors," including American International Group in an out-of-court restructuring. In court, she is lead bankruptcy counsel to Washington Mutual Inc. and LandSource Inc., a Louisiana-based land-development company. And her team is also handling many other massive matters, including the bankruptcy of Lehman Brothers Holdings Inc.
"I foresee a continuation of companies in distress in a variety of sectors for the next 24 months," Ms. Goldstein says. Ms. Goldstein, age 56, who attended Cornell University for college and law school, has practiced with Weil for more than 30 years. Some of her past greatest hits include serving as bankruptcy counsel for WorldCom Inc. (which was later subsumed into Verizon Communications Inc.) and Parmalat Finanziaria SpA.
Other lawyers included in the "50 to Watch" list are:
Christine Lagarde, Finance Minister of France. Before becoming trade minister in 2005, she spent five years in Chicago as chairwoman of international law firm Baker & McKenzie.
Pamela Daley, Senior Vice President, Corporate Business Development at General Electric. The Princeton University graduate honed teaching skills as an adjunct professor at University of Pennsylvania Law School, where she graduated top of her class and edited the law review. A tax lawyer by training, she was a partner at the Philadelphia office of Morgan, Lewis & Bockius in 1989 when GE attorneys recruited her. A year later, she was GE's top mergers-and-acquisitions lawyer.
Women with legal duties include:
Barbara Desoer, President, Mortgage, Home Equity & Insurance Services, Bank of America. She's not a lawyer, but she negotiated a settlement with 14 state attorneys general targeting Countrywide's lending practices. The $8.4 billion legal agreement seeks to modify loans by reducing principal owed or lowering interest rates for 400,000 subprime and adjustable-rate borrowers.
Nicole Seligman, Executive Vice President and General Counsel, Sony. Not a lawyer, but she oversees legal, compliance and internal-audit issues across the Japanese company's broad range of businesses.