Nothing is more frustrating when a an MBA or JD who has toiled in the firm's marketing vineyards, striven mightily to generate new business for the firm, and vainly proposed great ideas like CRM, client surveys and competitive intelligence only to have them ignored -- than it is to have a lawyer at the firm ask:
"What exactly do you do in marketing?"
The ever-successful Iris Jones of Chadbourne & Parke in New York has come up with a remedy: print a one-page directory of the Business Development and Marketing Department, naming the marketing professionals, describing concisely what they do and listing their phone number.
Examples:
Iris Jones - Chief Business Development & Marketing Officer, 212-408-1143
Oversees the functions of the department
Manages department strategic plan, budget
Principal leader of client development efforts
Lead strategist on presentations and proposals: business development trainer
Builds and facilitates client teams
Andrew Blum - Media Relations Manager, 212-728-4519
Liaises with the media, handling proactive and reactive PR with reporters, editors and producers
Places bylined articles and op-ed pieces
Distributes press releases and internal announcements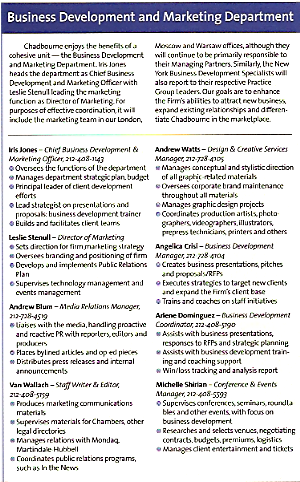 The one-sheet, distributed firmwide, also describes 19 additional professionals in New York, London, Moscow and Warsaw:
Director of Marketing Leslie Stenull, Staff writer & Editor Van Wallach, Design & Creative Services Manager Andrew Watts, Business Development Manager Angelica Crisi, Business Development Coordinator Arlene Dominguez, Conference & Events Manager Michelle Shirian, Marketing Technology Manger Thomas Vitale, Marketing Coordinator Kwasi Mendoza, Marketing Coordinator Alaina Maggio, Corporate Business Development Specialist Stephen Ruben, Litigation Business Development Specialist Michael Coston, Marketing Coordinator Kieran Morgan, Marketing Consultant Lesley Wright, Editor/Marketing Coordinator Amanda Dahler, Marketing Coordinator Jurgen Dersch, Marketing Manager Monika Grzybowska and Administrative Assistant Alessandra Composto.