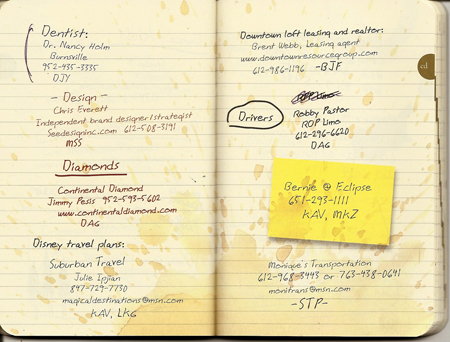 From acupuncturists and artists to underground shopping and website development, the attorneys of Parsinen Kaplan Rosberg and Gotlieb (PKR+G) in Minneapolis reveal their intimate personal and professional resources by way of their client communication for the holidays, PKR+G's Little Black Book.
Complete with attorney's actual handwriting, the odd coffee stain or ink blot and doodles in the margins, the entries in PKR+G's Little Black Book provide clients and friends of the firm with nearly 300 genuine, trusted community resources. As the fine print of the book's disclaimer states, the careful reader may experience certain side effects -- namely, insights into the personalities of PKR+G attorneys.
Props to Director of Business Development Mary Kay Ziniewicz.
According to PKR+G's managing partner, Howard Rubin, "It's an annual tradition at the firm to connect with our clients through a unique communications piece," But, Rubin says, this year's Little Black Book takes the approach to a new level. "The Little Black Book not only connects us to our clients and friends, but it also connects them with one another. It's a genuine endorsement of businesses, products and services. At the same time, our connections also reveal who we are as human beings."
The Little Black Book highlights PKR+G insider favorites, such as a Vegas bookie, local organic catering, couture, event planning, jazz, recycling, travel agents and writers, to name a few.
The publication also gives a nod to various internal and client activities that occurred during the past year, such as the PKR+G Art Experiment. In a collaboration with artist Joan Solomon (see "Experiment Artist" and "Solomon, Joan" in the Little Black Book) and the Bruley Center, a local holistic medicine practice (see "Alternative medicine," "Bruley Center," "Experiment doctor," and "Holistic medicine"), the firm studied the effect of art on attorneys' moods, energy levels and ability to relate to clients and colleagues.
Past PKR+G holiday communications - a favorite gifts catalog (2004), a lifestyle magazine (Perfectly Legal, 2005), a new and improved website (2006) and last year's magazine (Despicable Lawyer) - showcase the personal side of the firm's attorneys and staff.
Established in 1981, PKR+G is a 28-attorney law firm with established practice areas that include Personal Legal Planning, Commercial Real Estate, Corporate Law, ESOPs/ Employee & Executive Benefits, Employment Law, and Business Litigation. For more information, visit PKR+G at www.parlaw.com