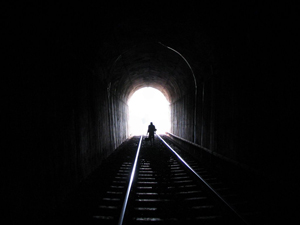 Suddenly things are looking up for the hundreds of thousands of lawyers who have a residential real estate practice. There is a light at the end of the tunnel.
1. Mortgage rates dropped below 6% last week, a significant market threshold. For a 30-year fixed-rate mortgage, rates can be found as low as 5.5%, according to Mortgage News Daily. This has caused the largest increase in refinance applications in the last 18 years. More importantly, it will encourage investors and individuals to buy homes -- and increase the number of closings that lawyers do.
2. Home sales are up in the bleakest area for real estate closings: Los Banos, CA. It is the hardest hit city where home prices are down 66% from their peak. Local sales are now up five times from a year ago, as investors snapped up foreclosed homes. Lower rates are also getting families to buy houses.
3. The federal government is working on pushing mortgage rates as low as 4.5%. The Treasury Department is planning to use Fannie Mae and Freddie Mac to encourage banks to lend at this super-low rate. The rate for a 30-year fixed mortgage hasn't been that low since the 1960s. I predict that this will unleash a surge in home-buying as long-waiting families and investors will see the low rate as a green light to buy -- and get real estate lawyers busy again.