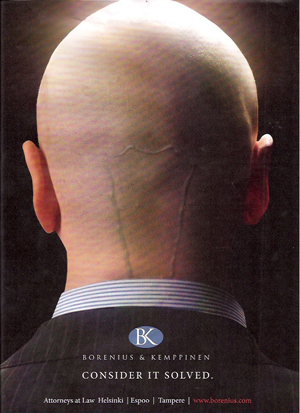 When I first saw the law firm advertisement in American Lawyer magazine I had the following impressions:
1. Omigod! A law firm has used Dr. Evil from the the Austin Powers film series in an ad! How much did they have to pay to get comedy actor Mike Myers? Wait a minute...why would a law firm want to depict themselves as finger-biting terrorists who want to take over the world? Where is his cat Mr. Bigglesworth and his side-kick Mini-Me?

2. Then I looked closer and noticed that a creepy alien worm had wriggled under the man's skin. Omigod! A hideous larva has slithered subcutaneously next to his brain, just like in horror movies. Why would a law firm want to depict itself as a writhing invasive creature? What's the branding message?
3. Then I pulled away and notice that the bulging blue blood vessel resembled the filament in a light bulb. The man's head shape resembled a light bulb, kind of. Maybe the image was meant to suggest the "light bulb" that goes on in cartoons when a person has an idea. So how does that connect with the firm's tagline, "Consider it solved"? It appears to me that this man needs treatment at a varicose vein clinic.
Ahh those wacky Finns. It was an ad for Borenium & Kemppinen, attorneys at law in Helsinki and cities called "Espoo" and "Tempere." Established in 1911, B&K lost its mind in 2008 and is one of the largest law firms in Finland. For more bizarre images I recommend you visit their website. The flash video features flying insects hovering around Dr. Evil's head.
I am not making this up.