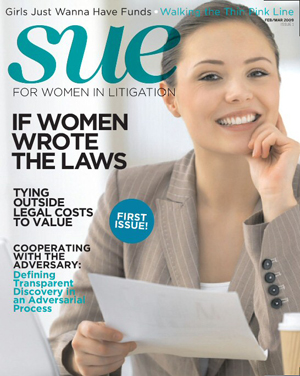 There's a new online magazine for "women in litigation" called "Sue" (get it?)
The technology is very slick: you can turn the pages online just like a real magazine. You can "zoom" to enlarge the copy 400%, making it easily readable. Further, you can print out one or all of its 76 pages as PDF files.
The bi-monthly magazine has search, print and thumbnail view functions. Feature articles include:
If Women Wrote the Laws
Girls Just Wanna Have Funds
Walking the Thin Pink Line
Articles on legal costs, discovery, Federal Rule of Evidence 502 and litigating in China.
The content looks good, except for "Brains Before Beauty, about flirting, the oldest trick in the book." This undermines the lofty editorial focus.
The publisher is Estrin Education Inc. in Studio City, CA, and Chere Estrin is the Editor-in-Chief. She writes, "SUE is not about a competition between men and women. It has been created to promote a new generation of professionals making a significant impact on the world through your work and your lives-while being true to yourselves. Sue's readers are part of the growing coterie of influential women redefining what constitutes success in the legal field in the 21st century."
Kudos to the editors, writers, publisher and advertisers. It's long overdue for women to have a strong voice in the male-dominated locker room known as the legal profession. Half of all law students are women, but only 17 percent of partners at major law firms nationwide were women.
To get your own free subscription just go to suemagazine.com or call 888.803.8807