Cross-selling is a key to success in business development strategies. While true, simply making introductions between partners in different practice areas is not enough. As Goodwin Procter found, the most successful cross-selling initiatives are aligned with the business strategies of clients and prospective clients to showcase depth, not just as a way to generate business, but as a way of helping clients to run their businesses better.
Goodwin Procter is one of the nation's leading law firms, with a team of 900 attorneys serving clients through offices in Boston and 8 other cities. Anne Malloy Tucker is the firm CMO.
One way in which Goodwin Procter has differentiated itself is by focusing its business development efforts around key industry-facing practice groups where the firm can best promote a national presence. Referred to as Major Practice Groups (MPGs), these groups largely focus on their own industry-based clients, and as a result, are positioned to understand the challenges and opportunities faced by these industries.
The firm's MPGs -- Private Equity and Financial Services -- recently developed a cross-selling initiative based on research showing that banking institutions would soon be looking for private sources of capital. The premise was that the groups' comparative advantage in the marketplace would increase exponentially, as few firms have both strong private equity and financial services practices.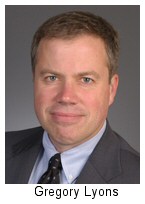 "This joint platform began to crystallize as the national financial crisis began to unfold," said Gregory J. Lyons, co-chair of the firm's Financial Services Group. "Our intention was to create awareness across the firm, and then capitalize on spokes of opportunity. The goal was to present Goodwin's rare combination of financial services and private equity expertise."
Because the tentacles of regulation and government oversight of the banking industry can extend to significant investors in the sector, historically private funds have not typically invested in banks or thrifts, despite the healthy returns such banks historically delivered to their investors. As a result, it became clear that successfully driving the initiative would involve raising the profile with both private fund investors and banks about this novel approach to raising funds.
The initiative brought the law firm new leads, new business and a national marketing award. For the rest of the story, please visit the LawMarketing Portal at www.lawmarketing.com.