According to Hitwise, Google has a 72% market share of online search, putting it over the 70% benchmark for having market power to raise prices unilaterally. This arguably makes Google a monopoly. This status has deservedly brought Google antitrust challenges from the US Government.
Percentage of U.S. searches among leading search engine providers
Domain
November 2007
October 2008
November 2008
www.google.com
63.15%
71.70%
71.97%
search.yahoo.com
21.62%
17.74%
17.70%
search.msn.com
9.80%*
5.40%*
5.45%*
www.ask.com
3.72%
3.53%
3.35%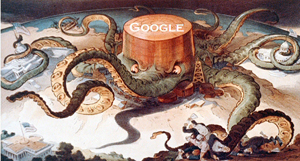 As the data shows, hardly anyone uses Ask.com, Msn.com or Yahoo! No wonder ask.com is advertising on TV for users.
"Google maintains that its lead in the Web search market is tenuous, saying that with a simple click of a mouse, a user's loyalty could evaporate at any moment," writes Randall Stross in Everyone Loves Google, Until It's Too Big in the New York Times.
But I don't believe it. Google has been the top search engine for three years running. "Certainly, antitrust scrutiny is a growing worry at the Googleplex. Last year, the company abandoned a proposed advertising pact with Yahoo when the Justice Department said it would file an antitrust lawsuit to block the deal. Last week, a small Web site operator, TradeComet.com, filed an antitrust suit against Google, accusing it of unfairly manipulating its advertising system to harm a potential competitor," the Times states
Many Web site owners who track where their visitors come from report that Google's search engine now refers 80 to 90 percent of their visitors.
I rely on Google myself to generate web traffic and recommend that law firms optimize their websites to be found by Google. But it will be a dark day when Google, which keeps its algorithms secret, becomes the only search choice. It reminds me of the Standard Oil Trust, which monopolist John D. Rockefeller used to control 90% of the nation's oil supply in 1900, until trust-buster President Theodore Roosevelt broke it up using antitrust laws.