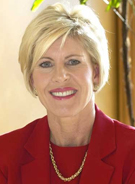 My longtime friend Maggie Watkins has joined Best Best & Krieger as Chief Marketing And Business Development Officer. Headquartered in Riverside, CA, the firm has 200 lawyers in 8 offices.
I've known her since the early days of her career as President/CEO of the Meritas legal network in Minneapolis, then Marketing Director of Luce, Forward, Hamilton & Scripps in San Diego, and most recently as Director of Marketing and Communications at LECG Consulting.
Now she will will focus her efforts on client outreach, sales training, internal and external communications, branding, advertising and market research for the firm. You can reach Maggie at (619) 525-1365 and maggie.watkins@bbklaw.com
Welcome back to legal marketing, Maggie, and best of luck in your new job!