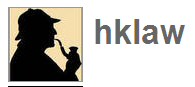 "Ghost" Twitterers -- that is some who impersonates a real person or company -- by the handle "hklaw" and "hklawtwits" have been bashing the international law firm of Holland and Knight (whose web address is hklaw.com).
You can find @hklaw at http://twitter.com/hklaw, an account that has 2,537 followers and has sent out 208 updates or "tweets" about the firm since December 27, 2008 -- all of them very negative. The online attackers hide behind his screen name of "Case Investigation" based in Chicago. The account says it is devoted to "Bio Information, Articles and Complaints involving Holland & Knight Attorneys." Sample tweets include:
@hklawtwits is at http://twitter.com/hklawtwits based in "Everywhere," and focusing on "Breaking News and Twits of information." @hklawtiwts has 2,359 followers and has posted 356 times.
@hklaw links to various blogs and news accounts. Many lead to the blog HKLaw Investigation at http://hklaw.posterous.com/.
Blogger Kara Smith's (http://blog.karasmamedia.com/2009/01/legal-firms-dont-allow-outside-parties.html) wrote, "Since the end of December, @hklaw has been sending out Twitter Tweets at the rate of approximately 20 per day. The tweets contain links that lead readers back to (HKLaw Investigator) whose profile lists six other sites, each describing its contents as 'Information, Articles and Complaints involving Holland & Knight Attorneys.'… The problem is, none of the blogs or the @hklaw Twitter page belong to the Holland & Knight law firm, whose URL is http://www.hklaw.com/."
Journalist Dan Hicks, who writes the Communicating Through a Crisis blog, speculates in detail who the anonymous attackers could be.
Larry Smith, president of the Institute for Crisis Management, said, "I have been following the internal crisis upon crisis at Holland & Knight for a couple of years and they keep shooting themselves in the feet...and now there is an 'enemy' that has ties inside the giant law firm and knows how to use digital media to launch almost daily attacks that even the Taliban would envy."