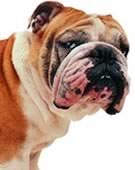 Once again, Womble Carlyle's Web site, www.WCSR.com, has been named the best law firm Web Site in both North Carolina and South Carolina. Who doesn't love a site with Winston the Bulldog walking across the page?
Womble Carlyle and WCSR.com won "Best in Contest," the top overall honor, in the Lawyer's Weekly annual "Best Law Firm Web Site 2008" competition. This is the third consecutive overall win for WCSR.com.
With 550 attorneys in eleven offices, Womble Carlyle is ranked among the AmLaw 100. The firm also won "First Place, Large Law Firm Category" for both North Carolina and South Carolina. The particular category is for firms with more than 26 attorneys. Womble Carlyle has won First Place for large law firms each of the past four years in the North Carolina competition and three of the last four years in South Carolina. The winners are featured in this week's issue of both the North Carolina and South Carolina editions of the newspaper.
The Web site recently underwent an extensive redesign intended to make it even more user-friendly.
"A good Web site is never static; it is constantly evolving," said Aden Dauchess, Womble Carlyle's Internet Marketing Manager. "That is both its greatest strength as a marketing tool and its toughest challenge to administer. But over the years, we've added many new features, including video, podcasts, RSS feeds and blogs."
The judges said, "Womble Carlyle stands out from the pack for its volume of original content, its innovative online techniques and technologies, and its clean, professional and inviting design."
The Lawyer's Weekly award is just the latest in a series of honors WCSR.com has received in recent years. In September 2007, WCSR.com was named the winner of the "Best Legal Website WebAward" in a national contest sponsored by the Web Marketing Association (WMA). In 2005, the WMA awarded the firm its "Outstanding Website WebAward" for Web site design and development.
The Outstanding Website award is given to those companies whose websites are exemplary in design, innovation, content, technology, interactivity, copywriting and ease of use. The WebAward competition's judges include members of the media, advertising executives, site designers, content providers and webmasters. Other organizations receiving an Outstanding WebAward include: GlaxoSmithKline, SAS Institute, American Airlines, Boy Scouts of America and Sherwin Williams.