This just in from Marketing Sherpa, which just published MarketingSherpa's 2009 Ecommerce Benchmark Report:
There's no doubt that social media is an immensely important trend or perhaps even a sea change in how we buy, sell and communicate. Still, the chart below (scroll down) puts the role of social and Web 2.0 tactics in some kind of perspective when compared to search engine optimization and tried-but-true house email. For the time being, the main drivers of website traffic are the known quantities of SEM (free and paid), email and display.
Still, companies that dismiss social tactics on this basis will be left behind. Social media is essentially a set of technologies and practices that enable the oldest and most powerful marketing there is – word of mouth. In the long term, social media may have a positive effect on margins by rewarding sellers for qualities beyond price, such as customer service, on-time delivery, social awareness and the like. In the short term, it makes sense for companies to build an expertise and social presence while consumers and business people are still in the process of building their networks. Like the early days of email, it's probably a lot easier to make a name on Twitter or Facebook today than it will be in five years.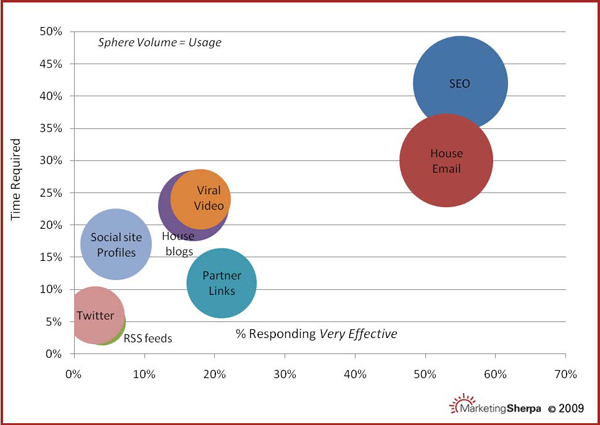 You can buy the full report for $197, or download the executive summary, which is where this snipped came from.