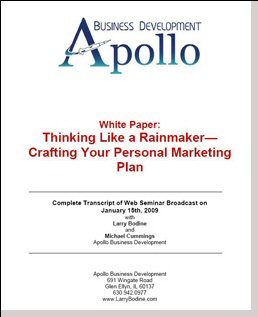 Most attorneys misunderstand how to network, when to join an association and how to become a rainmaker. They think rainmakers are not born. But in fact, they are trained. Furthermore, rainmakers are not just those charismatic lawyers with thousands of contacts. They are lawyers with targeted contacts and a network of strategic business alliances.
That's why I've released the white paper, "Thinking Like a Rainmaker - Crafting Your Personal Marketing Plan." This study takes you through a systematic, professional and proven approach to creating a personal marketing plan – just as rainmakers do. The Store manager decided to offer a temporary price reduction! Get $10 off the regular purchase price of $75.

Marketing expert Michael G. Cummings and I, both founders of Apollo Business Development, cover how you can leverage your existing professional skills to build a personal sales force of clients, understand the client's business pain and co-market your way to landing new clients and additional work.
Purchasers will receive this white paper in PDF format via email.

Specific topics we cover:
Eight steps for marketing like a rainmaker.
How to turn your clients into your personal sales force.
How to create intense business partnerships inside and outside your firm
How to recycle your marketing efforts to save time and double impact.
How to get referrals and clients by joining just one business group this year.
How to improve your professional reputation.
How to take control of your career and your destiny.
How to succeed in a difficult economy.
Would you spend $65 so that you could learn how to take home an additional $100,000? Put your success under your own control. Don't put it off -- purchase your copy today.