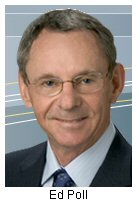 Nationally recognized law firm management expert Ed Poll, has launched www.LawBizForum.com, an online destination for lawyers, sole practitioners, partners, managing partners, of-counsel and in-house counsel.
www.LawBizForum.com will promote discussions on how lawyers can deliver their services more effectively and efficiently to their clients, such as management, marketing, technology and finance, and others. LawBiz® Forum is a place where the legal community can exchange ideas and techniques in order to improve the personal and professional lives of its members.
"Law is an honorable profession. Only lawyers are given the unique responsibility in the United States Constitution to help those accused of a crime, a fundamental right guaranteed to all citizens," remarks Poll. "This helping, caring nature of the legal community sometimes is forgotten by the psychological, social, and economic pressures facing lawyers, and I created this forum so that we can care for each other."
LawBiz® Forum will have several levels of membership. All visitors to the site can review the discussions at no cost. However, members will be able to contribute to the discussions, participate in exclusive webinars, and have online access to Poll's books and audio products.
In addition to LawBizForum.com, Ed has a popular YouTube Channel (www.youtube.com/LawBizGuide), and has also started to use Twitter as a way to reach out to the cybersphere. You can follow Poll at twitter.com/lawbiz.
Ed Poll is a consultant who helps attor­neys and law firms increase their profitability, advising them on issues of internal operations, business development, and financial matters. Ed has 25 years experience as a practicing attorney and has also served as CEO and COO for several manufacturing businesses.