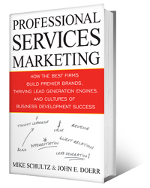 The new book Professional Services Marketing, written by Mike Schultz and John Doerr, co-founders of Wellesley Hills Group and publishers of RainToday.com, offers field-tested expertise, benchmark research, industry case studies, and personal anecdotes from top service marketing professionals.
Based on insight from firms that succeed and the science of how clients buy, it's the perfect book for consultants, attorneys, accountants, engineers, and other professional service providers. The book covers five key areas that are critical for firms that want to grow their revenues and themselves:
Creating a marketing and growth strategy
Establishing a brand and reputation
Implementing a marketing communications program
Lead generation strategies
Developing business by winning new clients.
Book Website: www.professionalservicesmarketingbook.com
If you buy the book on either August 3rd or 4th, you'll get bonus materials from Wellesley Hills Group, RainToday.com and industry experts including:
· Larry Bodine, Thinking Like a Rainmaker—Crafting Your Personal Marketing Plan
· RainToday webinar, How to Turn Your Firm into a Marketing and Business Development Powerhouse, with Mike Schultz
· Ardath Albee, Tune Up Your Client Focus Ebook
· Brian Carroll, Chapter 8: The Phone from Lead Generation for the Complex Sales
· Jill Konrath, Strong Value Propositions Ebook
· Michael W. McLaughlin, Consult This! 67 Tips for Consulting Success
· Michael Stelzner, Writer Industry Report White Paper
· Vickie Sullivan, Speaking of 2009: Top Ten Changes that Shape the New High-Fee Speech Circuit
· Jeanne Urich, Killer Services Marketing White Paper
After purchasing, visit www.professionalservicesmarketingbook.com/bonus-materials and enter your confirmation number to download these valuable resources.