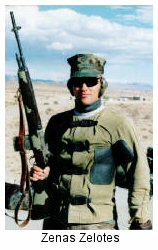 A Hartford attorney Zenas Zelotes has filed ethics complaints in 47 jurisdictions, alleging that Kevin Chern, President of TotalAttorneys.com and more than 500 of its lawyer-customers have violated ethics rules and engaged in a vast national criminal conspiracy to mislead consumers.
Ironically, Avvo.com reports that Zelotes has himself been cited for professional misconduct by a state disciplinary authority. Zelotes violated ethics rules in 2006 because he "lacked the legal knowledge, skill, thoroughness and preparation reasonably necessary for [a client's] bankruptcy." He was sentenced to 3 hours of CLE. This was after he had been in practice for four years already.
He claims that he was the "Second Highest Volume Filer of Consumer Bankruptcy Cases in Connecticut." Could it be that he's manipulating the ethics rules to eliminate a competitor?
Zelotes' 303-page complaint claims that various Total Attorneys companies are for-profit referral services, that the Total Attorneys marketing websites amount to impermissible fee splitting, that their advertising is impermissible solicitation and that their advertising is misleading.
"The complaint is a hodge-podge of hearsay, factually inaccurate statements, and carefully selected lines from a myriad of state advisory opinions taken wholly out of context, all crafted together to paint a picture of our program that could not be ignored by state regulatory counsel," Chern wrote.
Total Attorneys answered with a Memorandum of Law and Fact filed in Illinois. Zelotes' zany reply brief included arguments like: "We should not get a ticket for speeding in a SCHOOL ZONE because WE have never been pulled over by a cop before (not even once) and ALL of our friends SWEAR we are excellent drivers (and oh, btw, did I mention the internet is AWESOME!)"
The law is on Total Attorneys' side:
The Alabama Supreme Court in 1995 ruled in favor of a marketing model that was virtually identical to Total Attorneys.
Ethics opinions in South Carolina and Kentucky have approved performance-based pricing models.
Zelotes' LinkedIn profile says he's interested in "Ballroom Dancing, Salsa, Martini Bars." And he also likes camo and big scary guns.
Stay tuned.