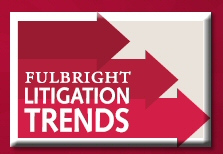 Fulbright & Jaworski released its annual litigation survey, which is considered a good barometer of activity in the legal profession.
The good news for litigators is that many companies expect bankruptcy, class actions, personal injury and regulatory actions to rise in the year to come; regulatory work is up, as are foreign bribery investigations.
The survey polled 408 in-house counsel at public and private companies, Here's a link to a page where you can download the F&J report.
Some other points:
35% of the respondents to the Fulbright survey say the economic crisis has led to an increase in their use of alternative fees, with their rate of use particularly high in the UK.

Contradicting other surveys, the Fulbright survey found that corporations were extremely satisfied with their outside law firms.

Corporations

preferred litigation over arbitration

by a wide margin.
For the rest of the story visit the LawMarketing Portal at http://bit.ly/44wrJD