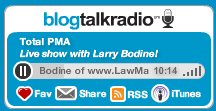 For your info, I just recorded 'Creating a Business Development Action Plan' on Blog Talk Radio at http://bit.ly/PMsbM
Get a cup of coffee during the first 5 minutes of the program and come back to listen to:
The element and mentality that rainmakers have that enables them to bring in business.
How to identify an attorney who will be a good business developer.
Rainmaking is not a dark art or inborn trait. It's a learnable skill. Everything that makes a person a good lawyer makes them a good rainmaker.
Role play: how to handle a new-business meeting.
When the other person is talking, you are selling.
A great question you can ask anybody to get a business conversation started.
The low-hanging fruit in business development.
Where most law firms get all their business.
Nobody likes being sold. So lawyers shouldn't do it.
Be curious. When you've learned the names of your prospects' kids and pets, you've gone deep enough.
The best way to find a trade association to join.
Many thanks to Kevin Chern, President, and Ed Scanlan, Founder & CEO of Total Attorneys for inviting me on the show.