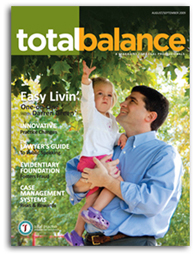 A brand new online social network launched today: Total Practice Management Association (Total PMA) at www.totalpma.org. Total PMA is dedicated to the advancement of attorneys, paralegals and other legal support staff in their struggle to build and manage a profitable practice without sacrificing their personal life. The online network is a natural follow-on to their "Get A Life" Conference held last May in Chicago, where I spoke on business development.
Members get Total Balance Magazine - which you can read by turning the pages online, The Get a Life.™ Conference 2009 Video Series (including yours truly. See below), and the Blog Talk Radio Show, on which I just appeared with Kevin Chern and Ed Scanlan, talking about Creating a Business Development Action Plan.
It's got member communities where you can join a discussion on work-life balance, law office technology, women attorneys, solo practitioners and young lawyers. The site displays a hall-of-fame of experts from Allison C. Shields, Esq., Owner, Legal Ease Consulting to Ed Adams, Editor & Publisher, The ABA Journal. It also links to the "Practice Makes Perfect Blog."
I recommend the site because I know many of the people behind it, who are among the smartest, most energetic entrepreneurs I've met. Visit the site and you can learn something from it.