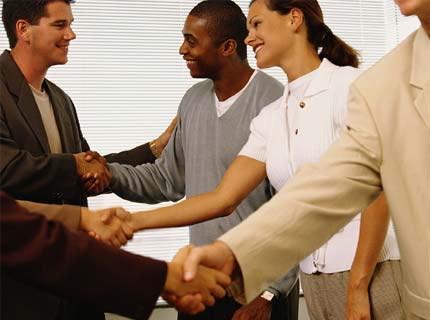 Networking works best if it is done with "marketing aforethought." Here's your game plan for an effective networking event.
Where to Go
The best meetings for networking are the ones your clients and referral sources go to. Every person in business belongs to a trade association. Simply ask your clients what meetings they go to and suggest you join them. At the meeting, have your client introduce you to others (who are prospective clients). If anyone asks what you're doing there, tell them you want to learn the industry better, to meet people and to ask questions.
Bar association meetings can be a great source for referrals – if you're a litigator and you attend bar meetings to meet transactional lawyers, or you can meet out-of-state lawyers who may call you when they have a matter in your city.
Making a Plan of Action
Most people erroneously think networking is shaking as many hands as possible and spreading out as many business cards as possible at an event. This is incorrect. You should go to an event with the aim of having one or two meaningful conversations – that's it.
A premeditated networker going to an event checks the membership or attendee list ahead of time, and highlights 3-5 people to meet. That way he's not walking into a huge room full of people he doesn't know. At the event, the networker asks the president to introduce him to a few of these targets.
Additional Tips
Come early to meetings and stand by the table where nametags are handed out. Let everyone at the meeting see you are there. Say hello to everyone you know.
Have the staff working the desk identify the people you are looking for.
Pick out whom you're going to sit with and put your purse/jacket across the chairs at the table.
Introduce yourself to the speakers and get their business cards; briefly chat them up about the topic they're speaking on. Do this at the front of the room so everybody can see you attended the meeting.
If possible, bring a second person from your law firm to the meeting and have them do the same thing; be certain that you split up from the second person and sit at separate tables and talk to different people.