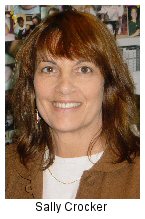 Wolf Greenfield, a 60-lawyer intellectual property law in Boston, has once again created a clever holiday greeting -- a sheet of flexible holiday magnets that combines marketing with fun.
Drawing on the talents of Sally (only the cops call her Sara) Crocker, Director of Client Services, and Jay Wager, Senior Manager of Business Development, the firm sent out a 7" by 9" sheet with 110 individual words that can be pulled apart and rearranged.
The sheet's arrangement already spells out their uniform selling proposition, including synonyms: "We are IP counsel in Boston and protect defend enforce your valuable new technology and innovation." Sally said the firm added the word "pony" as one of the words, to counterbalance the word "wolf," illustrating the firm's offbeat sense of humor.
It includes several industries the firm serves: "biotech chemical cleantech electrical mechanical pharmaceutical." And there are blank rectangles where you can write in your own word.
Adroitly, the late line of words spells out "but what a magnetic winter present you have from ... Wolf Greenfield."
Click on the picture to see it full size.