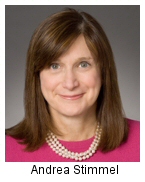 The Hubbard One Marketing Professional of the Year Award went to Andrea K. Stimmel, Business Development Director of Curtis, Mallet-Prevost, Colt & Mosle in New York.
The firm's nomination states, "Curtis hired Ms. Stimmel in 2007. In just over two years, she has prompted a sea change in the firm's attitude towards marketing, increasing visibility for the firm and establishing a far more tactical approach to business development. Among the many new programs implemented by Andrea, none has been more successful than the utilization of web 2.0 platforms to market the firm. "
Already, the 215-lawyer firm has benefited from this approach. To date, the firm has established more than 400 online contacts including:
195 followers on Twitter
186 fans on Facebook
60 members on LinkedIn
The Curtis blogs have been visited more than 12,000 times.
In November 2009 alone, social networking activity was responsible for almost 9% of web traffic on Curtis.com, including more than 450 first-time visits.
Andrea has 23 years of professional marketing experience, and the last seven were in law firm marketing. She is a member of the Metropolitan New York Chapter chapter of LMA. She established Curtis' social media presence with the launch of its award-winning Facebook recruiting page in 2008. A first among AmLaw 200 firms, the Facebook page helped increase name and brand awareness, primarily among law students, law schools and junior associates.
Andrea guided the firm's expanded use of the platform, including:
LinkedIn – Used to build relationships and generate new business. The firm also supports a firm profile and a group to maintain contact with alumni and other users interested in the firm's activities.
Twitter – Constantly updates our followers about the latest developments at Curtis. From deals and cases to media exposure, Curtis tweets on the latest firm activities.
Blogs – a series of blogs demonstrate thought leadership in several industry (e.g., international funds) and geographic (e.g., Oman) areas. The blogs help establish Curtis as a thought leader with both current and prospective clients.
Using Yahoo!'s Tubes, the firm created a single RSS feed that could aggregate all of the content published by Curtis. This "master feed" was then routed to each of the firm's social networking applications. Once implemented, this system enabled all content updates to automatically distribute to the Curtis Facebook page, LinkedIn group, Twitter feed, blogs and website.