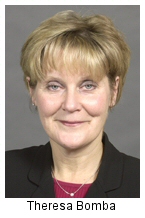 Theresa Bomba, one of the sharpest knives in the marketing drawer, has been promoted from Goulston & Storrs' Manager of Marketing to Associate Director of Marketing. She will be responsible for the firm's overall branding and communication strategy andimplementation. Theresa has been with Goulston & Storrsand implementation for nine years.
Prior to Goulston & Storrs, Theresa was with the law firms of Schnader Harrison and Goldstein and Manello. Theresa and the Goulston & Storrs Business Development and Marketing team have been recognized for their accomplishment by regional and national LMA Your Honor Awards and listed as a MLF Top 50 Marketing Department since inception. She is a frequent speaker at industry conferences and former LMA New England Annual Conference Co-Chair.
She's been with 200-lawyer Goulston & Storrs' an amazing consecutive nine years. Goulston & Storrs, with offices in Boston, DC, New York and London, has been recognized and awarded for its marketing and communications initiatives, culture, service and employee satisfaction.