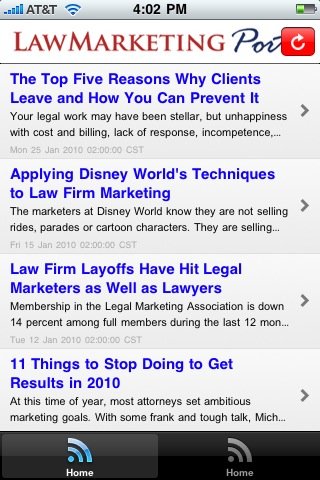 According to the Dutch analytics company Distimo, there are now more than 150,000 apps available for the super-popular iPhone. Of those, some 75% are paid applications while only 25% are free. This is in stark contrast to the second largest app store, Android Market, where recent data suggests that over 60% of the app there are free.
A slick law firm marketing technique is creating a free app for your own firm. See Arnold & Porter Creates an iPhone App for Law Firm Marketing for more details. It is the first AmLaw 100 law firm to publish an app, which takes the content from the Consumer Advertising Law Blog, and makes it more easily accessible with an iPhone. Other law firms and legal sites like JD Supra and the ABA Journal are using the novel approach to reach clients and recruits.
I created an iPhone app for the LawMarketing Portal as well. Something else that's very interesting is that the highest percentage of apps in the App Store are now paid book applications. In total, there are over 27,000 book apps in the store, and of those 92% are paid apps, according to Distimo's data.
In terms of overall app numbers, games still rule, with over 28,000 of them in the store. But a much higher percentage of those are free versus the percentage of free book apps. All told, both games and books are far and away the two most popular categories in the App Store, with entertainment in third with just over 20,000 apps. And the numbers drop quickly from there. Education is the fourth most popular category, but that means only 10,000+ apps.
Now is the time for law firms to get in early, before iphone apps become commonplace.