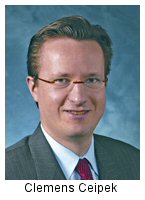 You can't get it yet, but when Lexis for Microsoft Office (LMO) comes out by June 2010, there will be no extra charge for the additional functionality. You have to have a LexisNexis subscription that lets you access the information LMO can get, but otherwise the company will waive the cost on the first iteration, according to Clemens Ceipek, Vice President and Managing Director of "New Lexis."
"We don't think the market right now tolerates a lot of price action, customers want more value," he said, noting that clients are demanding more value and no price increases from lawyers.
Simply having LMO will give law firms a marketing point of distinction, because they will be able to say that they can be more efficient and work more quickly. "Corporate clients are saying 'how can I get my law firm to use this?'" Ceipek said.
Key features of the new software allows lawyers to work in Word or Outlook and:
Search - get one-click access to LexisNexis, and separately, the Web and a lawyer's own internal document-sharing system. "We've integrated Bing, Google search and Lexis Web search. We're trying to make it as easy to find the relevant stuff."
Get Background Information - by clicking on hyperlinks the software creates for people, companies, organizations and cases. Clicking on a case citation will Shepardize it. "When you get a document from opposing counsel, you can instantly see if there is any bad law cited in the case. If you click on link. a window opens on the right - but you're still within Word - and you'll get a whole Shepard's report. You don't have to switch programs, don't have to cut and paste," Ceipek said.
Get a Suggestion -- "Let's say you're writing a brief. You just type out in Word what it's about and click 'suggest,' and a window on the right and analyze the text you typed in and give you relevant example documents that accomplish what you're trying to do."
Lexis began surveying lawyers about the difficulties they had in creating documents -- such as cutting and pasting, running searches and switching between programs. Microsoft's formidable program writers did the development work in 18 months.
"The reaction has been phenomenal," he said. "I've been in development sessions myself, and we ask the lawyers "on a scale of zero to 10 how likely are you to recommend this to your firm or client?" We get 8 to 10s. Hundreds of lawyers have tried it. It's so easy, so intuitive. What impresses people is how simple it is," he said.
Click Continue Reading below to see screen shots of the new software.