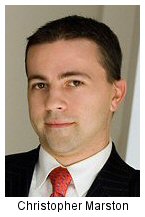 Build a better mousetrap and the world will beat a path to your door, as 2010 Small Firm Rainmaker of the Year Christopher Marston knows well. He offers soup-to-nuts service to entrepreneurs and startup businesses. Originate! newsletter selected him because the revenues of his Boston law firm – Exemplar – saw its revenues shoot up 48% last year, when the rest of the legal profession stagnated in the Great Recession.
His business has succeeded by being different in a way that is highly desirable to clients. The 22-lawyer firm, led by four partners including Marston, who is still just in his early 30s, was founded in 2005 with the aim that it would "absolutely not bill by the hour." The firm was ahead of its time by offering value billing and a service guarantee from the start. This approach plays very well in the current times of client rebellion, as exemplified by the Association of Corporate Counsel Value Challenge.
"We're not a vendor, we're a partner with a client," Marston said. "And we call clients customers."
In contrast, most large law firms charge by the hour and are built as legal silos. Business advice and financing is something that is offered elsewhere. "We practice at the intersection of law and business," Marston said. "We're looking for clients like us. We're revolutionaries and we're looking for revolutionaries."
The target client of Exemplar law is...For the rest of the story please click here.