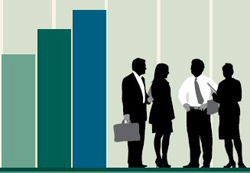 Here's a twist: the recession has clobbered big firms, but it's actually helped drive Fortune 500 clients to small, midsize and boutique law firms, according to a new study by Robert Half Legal, a recruiter of lawyers for law firms and corporate legal departments.
"Although all law firms have suffered to some degree in the economic downturn, many small and boutique firms were able to turn adversity into opportunity. Because of their lower overhead and operating costs, small firms can offer the same legal services for significantly less than large firms. This makes both new and established small firms attractive to cost-conscious clients," according to the report, "Future Law Office: Delivering Maximum Value in a Cost-Conscious Legal Era."
"In-house counsel of bigger clients have become more cost sensitive, and will opt for a smaller firm that can deliver what the clients need at a lower cost," Yee-Yoong Yong, a partner at Epps Yong & Coulson in Los Angeles, told Robert Half.
Providing large-firm expertise at small-firm rates has become even easier because many small and midsize firms have picked up talent that was unavailable to them before the recession. This has helped arm boutique firms with the capability to serve middle-market companies that can't afford big-firm rates.
"114 partners left The AmLaw 200 to start or join small practices, up from 70 in the previous 12-month period," the report says. "Five former Clifford Chance partners, for example, launched a boutique firm that focuses on international arbitration, reinsurance and commercial litigation. In an article in the New York Law Journal, Nate Raymond notes that the new firm, Chaffetz Lindsey, is 'able to bill up to 20 percent to 30 percent less than [the founders] did at Clifford Chance.'"
Small firms also are appealing to emerging companies in sectors such as technology and life sciences. Some small firms have been able to pick up business that larger firms had to pass up because of conflicts of interest. A small handful of boutique law firms in Boston that specialize in business bankruptcies, for example, has kept busy throughout the downturn.