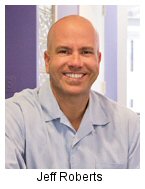 A recent study by Nielson indicates that 30% of smart phone owners are actively using the internet via their phones. This number will surely grow as sales of smart phones exceed sales of computers. It is more crucial than ever that law firms respond proactively.
A mobile website, or "mobi," offers the user an abbreviated version or your main website that responds quickly and efficiently to their needs and interests, such as blog post, bios, case studies and core capabilities.
Moiré Marketing Partners this week became the first full-service "professional services marketing" agency to launch a mobile website. Jeff Roberts, president and creative director of Moiré, said, "We want our clients and prospects to find information without the obvious issues commonly seen on other sites while searching the mobile web. We believe that the need for a mobile website is so crucial to your brand, that we have integrated them into all website projects we are engaged in. It should not be an option, but a necessary element in any brand."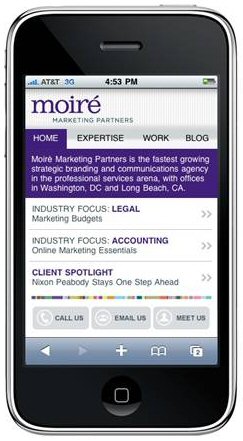 2008 there were 131 million smart phones sold worldwide. By 2013, the number of smart phones sold annually is expected to exceed 1.1 billion, according to the Parks Associates industry research firm. At that point, pretty much every man, woman, and child in the Western world will own a smart phone.
There are many mobile websites already developed and running. The LawMarketing Portal has had a mobile-friendly website online since June 2009. Other examples include mobile websites of CNN, Domino's Pizza and ESPN. They are all similar in that they offer a unique user experience that is easy to navigate with quick precision.
With offices in Washington, DC and Long Beach, CA, Moiré Marketing Partners is a strategic branding and communications agency specializing in the success of professional service firms. Core services include branding, brand strategy, positioning and messaging, website design and development, mobile and micro sites, search engine marketing, advertising, brochures, annual reports and copy writing.
For more information contact Jeremy Hoders at (202) 822-0100 or at jhoders@moiremarketing.com.