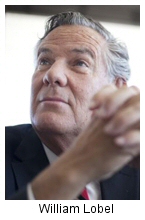 From the Orange County Register:
William Lobel is a bankruptcy attorney whose well-heeled clients are facing one of life's more difficult realities. They owe more than they can possibly repay and their creditors have run out of patience.
Lobel has learned over 40 years of representing debtors in bankruptcy court. Despite the experience, the connections, the seven-year stretch on the list of Southern California Super Lawyers by Los Angeles Magazine, Lobel, 67, was hit by mandatory retirement from Irell & Manella LLP in Newport Beach in 2008.
So he corralled the ocean-side corner of the top floor of that law firm's offices for his new venture, The Lobel Firm and continued doing what he had done since the 1970s. Lobel clients have assets and debts in the eight and nine figures. He claims his $950 hourly rate is the highest in Orange County. Competitors tend to agree.
---
For similar stories about lawyers leaving big law firms to start their own firms, read:
http://abovethelaw.com/2010/08/a-hot-new-trend-leaving-biglaw-to-start-your-own-firm/
http://www.slate.com/id/2264501

http://www.crainsnewyork.com/article/20100815/SMALLBIZ/308159975
---
Lobel says the high fee helps command the attention of his clients who are used to getting their own way, but those who know him say that it also supports his love of limo rides and cruises and fishing in Cabo San Lucas.
His clients are all over the country and have included some Orange County high-profile real estate developers and entrepreneurs: luxury auto dealer Jim Slemons, Bramalea Builders, surf wear brand Maui and Sons, motor sports promoter and convicted murderer Michael Goodwin. He kept Carl's Jr. founder Carl Karcher and homebuilder John Lusk out of bankruptcy.
"Bankruptcy has become so mainstream in the past two (economic) downturns and so commonplace that the stigma is different now."
"He's been doing it for so dang long. I tell people, if you can get a concentrated hour of Bill's time, it's worth three of his associates'. He's not going to figure out what to do on your dime," said Ron Rus, of the Irvine law firm, Rus Miliband & Smith.
"I interviewed clients before I left Irell and asked them what they like least about doing business with us," Lobel says. "There were two consistent themes: They hated quarter-hour billing and all the extra costs, 50 cents a page for faxing a document, parking."
So Lobel instituted tenth-of-an-hour billing. If a client just has a quick question that takes a minute, he doesn't get charged for 15 minutes, so over the course of a typical bankruptcy the fees are lower. And The Lobel Firm doesn't bill for various costs.