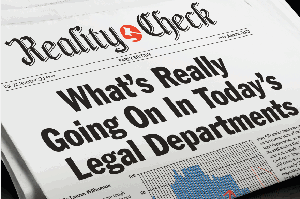 According to a new survey by Inside Counsel magazine, the following practice areas increased in volume the most—or experienced little or no change -- during 2009:
Growing
1. Corporate Governance
2. Labor and Employment
"A lot of things from the new administration are just hitting now. We're going to see that continue." – Ron Peppe, vice president, legal and human resources, Canam USA
3. Litigation
4. Regulatory
5. Intellectual Property
"IP has become more important to everybody, whether it's GM and whether [its employees] are authorized to use the word Chevy … or my company protecting creative rights for fashion." – Lorraine Koc, vice president and general counsel, Deb Shops
Slowing
1. Antitrust
2. Environmental
3. Securities & Finance
"While the economy appears to be on its way back, it's not as if we're back to the bullish days of years ago. Financing is difficult." – Karl Racine, managing partner, Venable
4. Mergers & Acquisitions
"Everyone is waiting for the dust to settle and see where the businesses will end up at the end [of the recession]." – Elizabeth Large, vice president and interim general counsel, Knowledge Learning Corp.
5. International
Inside Counsel surveyed more than 550 senior legal executives on the current state of their legal departments, as well as the evolution of their relationship with outside counsel.
For a full report on the survey, visit the LawMarketing Portal.