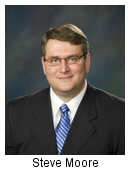 The labor and employment practice at many law firms has risen as a result of the recent recession, according to a national overview from the Legal 500. "Employee benefits litigation has continued to grow apace, as increasing recognition of the opportunities for lucrative settlements has combined with the economic turbulence of the past two years," the overview reports.
"Labor lawyers are in demand," the Legal 500 overview states. "Recently there has been a sharp rise in the number of reductions in force and restructurings, with companies requiring advice on how to target potential layoffs in order to avoid claims of adverse impact on any single group of employees. The need for counseling on wage and hour, whistleblower and equal employment opportunity issues shows no sign of slowing down."
"Many employees who have been separated from employment, either from a layoff or an outright termination, find themselves in a situation where they cannot become reemployed," said Steve Moore, a partner in the labor and employment practice of Ogletree Deakins. "As a result, some have challenged their employers' reasons for terminating them and alleged a variety of different claims including discrimination, retaliation, and wrongful discharge. This has led to more litigation work for our office in Denver."
Specific areas seeking more legal activity include:
Employee benefits litigation
Employment discrimination based on age, race or retaliation
Enforceability of non-compete agreements
Misclassifying employees as independent contractors
Please go here to read more about the story on the LawMarketing Portal.