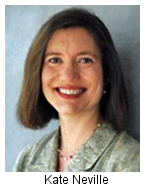 In the harshest job market I've seen in my lifetime, career consultant Kate Neville says there are jobs to be found in employment law, healthcare, technology transactions and corporate compliance.
In an article on the LawMarketing Portal she also offers key tips for attorneys to getting a job in the private sector, federal government, and outside of law practice.
Emphasizing the importance of business development skills in getting a job, she notes:
Attorneys at all levels were laid off from law firms across the country, from first year associates to equity partners whose firm management decided that they were not bringing in their share of business.
The business model of large law firms has changed, so that — in contrast to prior downturns in the legal market — many predict that the legal jobs eliminated in the last two years are not coming back.
Clients have begun to object to legal fees increasing faster than other expenses. Law firm management has been motivated to maintain or increase their profits per partner , so hiring of attorneys who do not have business to bring with them remains down across firms.
Recently, other areas within the law have begun to pick up, and private employers—both firms and in-house — are in fact hiring lawyers to fill these needs. She identifies the several areas that recruiters say are in in demand and offers tips to help attorneys looking for a job maximize their chances of landing one. See http://bit.ly/93QWkY for the full article.