When two Pokens touch, digital identification information is exchanged, including a photo, name, address, telephone number, email address and links to various social networks, including MyLegal.com, LinkedIn, Twitter and Facebook, according to MyLegal.com CEO Lisa DiMonte.
You'll be able to use pokens at MyLegal.com's one-day conference on Thursday, October 21, 2010 at Georgetown University Hotel and Conference Center. The presenters of the conference, The Case for Social Media: Managing Your Online Presence to Build Your Law Practice, are lawyers, who also happen to be recognized social media experts. They will be sharing their advice and experience on how to use social media to build your law practice.
Yours truly is the luncheon speaker, and I'll be talking about using LinkedIn for business development.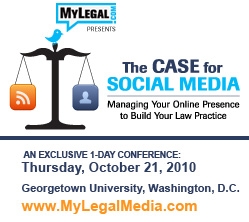 One of the main reasons people attend conferences is for the networking opportunities. Meeting someone in person and establishing a personal, face-to-face connection is the foundation of any worthwhile and meaningful relationship. So what does everyone do? Exchange business cards. Then what happens? You get back from the conference with the pile of cards (assuming you haven't lost any along the way) and you are immediately brought "back to life" and the unenviable task of digging out of your email and handling the problems of the day.
The unique Poken ID is connected to a social business card that every attendee creates on the Poken website. Each Poken holder can enter contact information and links to his/her social networks. All contacts that you've made at the conference can be uploaded to your computer as an Outlook Contact when the event is over, and they will appear on your "social time line," which is a complete record of everyone you meet at the conference.
Please go here to read Lisa's article on the LawMarketing Portal.