The most effective way to generate new files and revenue is through cross-selling, and the most efficient way to sell more services to clients is to create client teams. BTI Consulting lists client teams as one of a law firm's "Power Marketing Practices." However client teams produces data, relationships, lawyer activities, revenue goals and management work that overwhelms the team leader.
Interaction, the company known for its client relationship management software, is riding to the rescue with its new Strategic Account Management (SAM) program. According to product manager Jason Maeder the SAM program:
Connects to all the information from Interaction's CRM system.
Collects all contact information, activities, tasks and goals into a set of charts.
Creates a client team workplace, so that team members and log in and see announcements, opportunities, activities and appointments.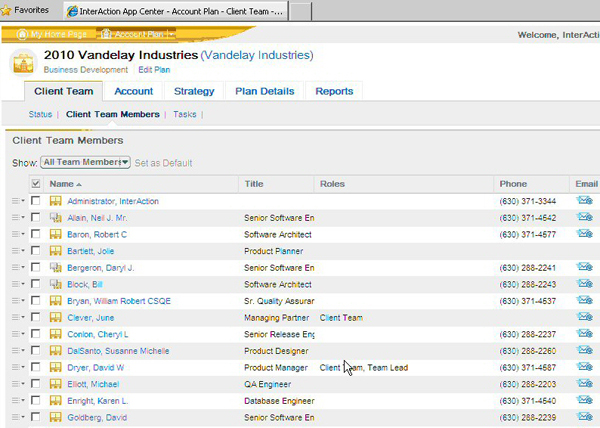 The team leader decides who's on the team, and a chart displays all the members, their titles and contact information. The leader can see the year-to-date revenue, set new revenue goals and relationship goals. Scored on a scale of -1 (no communication) to 5 (strong relationship), a relationship rating can be strengthen by visits, meetings and number of communications.
"A leader can check what individuals are doing without calling a meeting," Maeder said. Individual lawyers have their own home page including tasks, relationship goals and opportunities.
Accountability is the key element. SAM sends out email notices and reminders to lawyers who have been inactive. "It's a method to grow client satisfaction and share of wallet, tying an action plan to it and laying out steps to achieve the goal."
For further reading:
Client Teams: Concept v. Reality
Business Teams Promote Cross-Selling