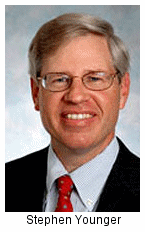 A straw poll of 21 managing partners at New York law firms revealed guarded optimism about hiring trends and demand for legal services in 2011. Only two of the 21 respondents said that they anticipated legal work would decrease next year, while more than 50 percent expected to hire the same number or slightly more first year associates than in 2010.
The informal poll was conducted earlier this week by the New York State Bar Association at a meeting of managing partners from large, mid-size and boutique lawn firms under the auspices of the Association's Task Force on the Future of the Legal Profession.
The Task Force was established in June 2010 by State Bar President Stephen P. Younger of New York (Patterson Belknap Webb & Tyler LLP) to study and recommend ways to create a road map for the future use of technology in the profession, to improve legal education and training, to establish proper work/life balance for attorneys, and to analyze the billing structure in law firms.
"One thing was clear from yesterday's dynamic and lively discussion – whether from firms large or small, they all agreed that the profession is ready for permanent, positive changes that will allow us to better serve the modern client while shaping a profession that is satisfying to today's lawyers and appealing to future lawyers," said President Younger.
"Significantly, there was consensus around the table on many issues. Clients want fixed and predictable costs, and lawyers are willing to try alternative billing methods, such as value billing, because this leads to increased efficiency, better trained lawyers and greater opportunity to achieve work-life balance," Younger added.
Also in attendance at the meeting was American Bar Association President Stephen N. Zack, who predicted that the practice of law will change more in the next ten years than in the past 200 years.
Survey highlights include:
All managing partners who were polled confirmed that their firms had experimented with something other than the billable hours system. Six of the 21 respondents (almost 30%) said their firms "regularly" used alternate billing methods.
11 of the managing partners also said that clients complain about having to pay for the work of first- or second-year associates. Two additional respondents said that clients refuse to pay for such services.
18 of the 21 managing partners said that their firms expected attorneys to respond to non-emergency emails and phone calls on weekends and holidays.
The vast majority (18 of 21) indicated that their firms offer flex policies including reduced hours, job sharing and flex times. Not surprisingly, more women attorneys took advantage of flex time than their male counterparts.
66% of the managing partners said their firms hired fewer attorneys in 2010 when compared to more typical years. However, the outlook for 2011 was that a little more than half expected to hire the same number of associates as in 2010.
11 of the 21 managing partners said they anticipated demand for legal services to remain flat in 2011; while 8 believed workload would increase modestly.
Of the managing partners who responded, six were from firms of 25 lawyers or less; three were from firms of 26-100 attorneys; six managed firms of 101-250 lawyers; and six were in firms of over 250 lawyers.