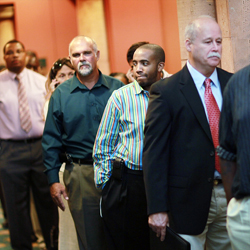 In a statement that strains credulity, the The National Bureau of Economic Research, an independent group of economists, announced that the Great Recession ended in June 2009.
Who are these out-of-touch nimrods and what planet are they referring to?
Does anyone believe that the recession is over? I don't, not when I read in today's New York Times:
For the Unemployed Over 50, Fears of Never Working Again
Wall Street's Profit Engines Slow Down
Fed Expected to Weigh More Stimulus
"The NBER acknowledged the risk of double-dip recession in its statement, but said "The committee decided that any future downturn of the economy would be a new recession and not a continuation of the recession that began in December 2007. The basis for this decision was the length and strength of the recovery to date," CNN reports.
Oh, that's really comforting.
"The committee that made the finding said it "did not conclude that economic conditions since that month have been favorable or that the economy has returned to operating at normal capacity." Rather, it decided that June was when the economy hit bottom, and that it has been slowly but steadily growing since then," CNN reports.
Funny. I didn't notice that things were getting better. Realty Trac says that 2010 will be a record year for foreclosures nationwide -- so far 1.65 million properties have been hit with foreclosure filings to date. See http://www.realtytrac.com/content/press-releases/
Further 2010 will be a record year for bankruptcies. The total number of U.S. bankruptcies filed during the first six months of 2010 increased 14 percent over the same six-month period in 2009, according to data released today by the Administrative Office of the U.S. Courts. See http://bit.ly/bzHjbQ
If this is what it's like when the recession is over, I'd hate to see what bad economic times look like.