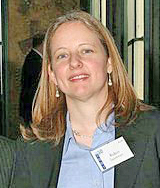 Robin Sparkman has been promoted to editor in chief of The American Lawyer and will also oversee the company's large law firm content team.
Sparkman was named deputy editorial director for American Lawyer Media's national publications and executive editor of The American Lawyer in 2008. Previously, she spent six years as editor in chief of ALM's Corporate Counsel, a sibling publication. She is a noted speaker on legal and journalism issues, and served as a final round judge for the National Magazine Awards.
Before joining ALM, she spent five years as an editor for the business and opinion sections of MSNBC.com, where she was one of the founding members of the website. She is also a former reporter for Newsweek, covering terrorism, the United Nations and politics.
She replaces Aric Press, who has been promoted to the new position of vice president and editor in chief, ALM. Press will head legal content development and will serve as overall manager of the new editorial structure. He will continue to be deeply involved with all ALM national content, including writing commentary for The American Lawyer and overseeing the national news staff.
"In his new role, Aric will establish the focus for our new content teams and lead our efforts to identify opportunities to serve clients through new products that combine the reporting skills of our staff with the capabilities of new media and technologies," said Jack Berkowitz, senior vice president of ALM.
For the last ten of these, Press had been a senior editor in charge of Newsweek's coverage of education, law, news media, religion, science and sports. Before becoming an editor, he served as Newsweek's justice writer for nine years. Under his leadership, The American Lawyer has won numerous national journalism awards from the American Society of Business Publication Editors and the Jesse H. Neal National Business Journalism Awards program. In 2004, Press received the McAllister Editorial Fellowship, awarded annually to one outstanding editor to promote the study of business-to-business media, in conjunction with the Medill Magazine Project at Northwestern University's Medill School of Journalism.
Most of ALM's national news staff, which formerly operated under a brand structure, will now be organized into cross-platform content teams focused on seven topics:
large law firms

in-house counsel

national legal news

litigation

intellectual property

international legal news

legal technology.
ALM, The American Lawyer, Corporate Counsel, GlobeSt.com, Insight Conferences, Law.com, Law Journal Press, LegalTech, The National Law Journal and Real Estate Forum.