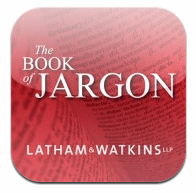 If you don't know the difference between a "bear hug letter" and "accordion feature," perhaps you should download Latham & Watkins new new iPhone app that defines more than 750 Wall Street terms, including slang phrases used by finance professionals and acronyms used to describe government. It's free.
Latham is a 2,000 lawyer global firm with in 30 offices. It launched its US Book of JargonTM iPhone app as an interactive glossary of capital markets and banking slang, as well as legal and regulatory terminologies and acronyms.

"The Book of Jargon app is a user-friendly tool for anyone who works in the finance community. We had a lot of fun putting together this glossary of Wall Street lingo," said Kirk Davenport, Global Co-Chair of Latham & Watkins' Capital Markets Practice Group. "The Book of Jargon is definitely one of the most useful things we have ever published and the new iPhone app is by far the coolest thing we have ever done. With this app, you will be able to figure out what all the seasoned pros are talking about,"

Alex Cohen, Global Co-Chair of the Capital Markets Practice Group, added: "The Book of JargonTM app allows for key information to be readily available wherever you may be and whenever you may need it. And it does so in the highly intuitive way we've come to expect from the best iPhone apps. That's what makes it so useful."
The app is a digital version of a popular 2008 hard-copy publication distributed to lawyers and clients, the Am Law Daily says. Latham wanted to send a copy to every junior banker and lawyer in Manhattan, but decided the printing costs would be too high. The app was deemed a better and cheaper way to distribute the jargon book.