From Law.com: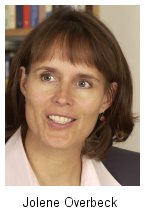 It's likely that Jolene Overbeck has racked up more head marketing titles over the course of her 27-year career than anyone else in big law, having done stints at Orrick, Herrington & Sutcliffe, Latham & Watkins, Shearman & Sterling and, most recently, DLA Piper. Recently Overbeck added a new title and firm to that list when she started as the chief marketing officer at 2,500-lawyer Hogan Lovells.

Overbeck's move to Hogan Lovells comes at a key time for the firm, just over five months after the 40-office firm was formed via the merger of Washington, D.C.-based Hogan & Hartson and London-based Lovells. The cross-Atlantic combination created a firm with 2,500 attorneys and more than 40 offices.

"The merger greatly expands the global capabilities of Hogan and Lovells," says J. Warren Gorrell, Hogan Lovells's co-CEO. "Our goal is to make sure clients and potential clients understand the benefits of working with Hogan Lovells and that are position is different than it was before the merger and different than our competitors."

Gorrell adds that Overbeck, working in concert with her London-based counterpart Serena Simmons, will play a critical role in highlighting those distinctions. Hogan Lovells, Gorrell says, was particularly impressed by Overbeck's long track record.
"She has the distinction of being the only person who has been chief marketing person for three of the top global 50 law firms," Gorrell says, "and she has a track record of successfully implementing communication strategies, both internal and external, and business development efforts." Gorrell has been working without the benefit of a chief marketing officer for a year, since well before the completion of the Lovells merger.

"Because of the merger and the current size of Hogan Lovells, it is natural that they would want to hire a CMO with vast experience," says Melanie Bennett, a recruiter at Major Lindsey and Africa, who specializes in high-level staff placements at law firms. "It would have been more surprising if they had hired someone with no law firm experience."

Overbeck's law firm marketing experience dates back to 1983, when she was Orrick's first marketing director and played a leading role in both building the San Francisco-based firm's marketing department and developing a promotional strategy.

Since 2006, Overbeck has played a leading role in marketing for DLA Piper, first as global head of marketing and then as head of marketing for the firm's U.S. arm. At Hogan Lovells, where Overbeck will be based in the firm's New York-office, her time at DLA Piper should serve her well since her new firm is structured similarly to her old one.

Like DLA Piper, Hogan Lovells consists of separate limited liability partnerships registered in England and Washington, D.C. Both partnerships are under the umbrella of a Swiss verein, a legal structure used by international businesses to limit liability.

Business structure aside, Overbeck says that she was attracted to the Hogan Lovells position because it offers a new opportunity that matches her skills.

"Law firms are doing a better job utilizing the full complement of marketing tools, but real improvement comes from focusing on clients, sectors and markets and law firms tailoring their approach based on that," she says, adding that "I am really good at shaping functions, building routines and organization around business development and marketing initiatives."

All that experience doesn't come cheap. Industry sources say compensation packages for CMOs at top law firms tops out in the $600,000-$700,000 range. And as word spread that Overbeck had joined Hogan-Lovells, the buzz was that she had set a new high-water mark in the process: a compensation package worth $1 million.

Overbeck declined to discuss her compensation in detail, except to say that the $1 million figure is incorrect. "I would just say I am regarded to be at the top of the field," she says. "I am compensated at that level and I deliver at that level."