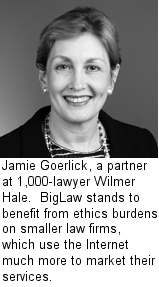 From Law.com:
The American Bar Association is examining the ethics of online client development tools such as blogs and Facebook, and some marketers are none too happy about it.
The ABA's Commission on Ethics 20/20 has submitted a paper that discusses potential ethics concerns over internet-based lawyer advertising. The commission is asking for feedback on whether or not it should pursue further research and regulation of that area over the next two years.
"There is no agenda," said commission co-chair and WilmerHale partner Jamie Gorelick. " The paper is designed to reflect some of the questions that have been posed to us."
But legal marketing consultant Larry Bodine said the paper is the first step down the wrong path for the ABA, which should be concentrating its ethics effort on lawyers who steal from their clients, not lawyers who use Twitter. "The ethics police should be chasing after lawyers who steal, mislead, lie and user the sleazy competitor keyword tactic," Bodine said.
"This is how it all starts, he said. "With an innocuous document that says, 'We're just collecting information.' I think the ethics authorities have gotten in way over their head when it comes to lawyer advertising and marketing. They don't understand it."
The internet is a major way clients find attorneys these days, and regulations that would prompt lawyers to shy away from that arena would only hurt the public, Bodine said. He is rallying other marketers and bloggers to vocally oppose further ABA involvement in online client development.
The paper, which was submitted by the committee's Working Group on the Implications of New Technologies, highlights four specific areas of possible research and regulation: internet-based client development tools such as Facebook, LinkedIn, and Twitter; blogging; pay-per-click advertising; and lawyer websites.
Client development tools such as Facebook might create inadvertent lawyer-client relationships or blur the line between personal and professional communications and advertising, it notes.
"Because lawyers frequently use these Web sites and services for both personal and professional reasons, the legal ethics issues in this context are more complicated than they have been for more traditional client development tools," the paper reads. "For example, a lawyer might create a Facebook profile that is accessible to family and prospective clients at the same time."
Regulating Facebook
Lawyers and judges who are "friends" on Facebook may also be ethically problematic, according to the paper.
The paper poses the question of whether or not lawyer-penned blogs constitute advertising and are subject to the applicable rules. The issue is trickier because some blogs mix business and personal issues, while some are strictly law-related and serve a marketing function.
"The commission is considering what, if any, guidance it should offer to lawyers who operate or participate in blogs, discussion boards, and other sites (like JD Supra) when their intent is, at least in part, to develop clients," the paper reads. JD Supra is a website that allows lawyers to post articles or examples of their work product for potential clients to see.
Finally, lawyer websites themselves may be problematic if they contain false or misleading information, create an inadvertent attorney-client relationship, give legal advice or reveal confidential information and current or former clients.
"In the old days, when advertising was in a paper medium, you could very readily take it and look at the rules and understand what you could and couldn't do," Gorelick said. "Under these new circumstance, the question is, 'What is an advertisement?' "
Bodine thinks the ABA's newfound interest in internet-based client development will have a major chilling effect on attorneys, however.
"Lawyers are very ginger when it comes to marketing online, and this is just going to frighten the daylights out of them if it becomes an ethics rule," he said.
The commission is seeking comments on the paper by Dec. 15.