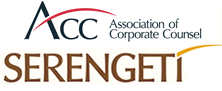 For the second year in a row, a majority in-house counsel indicate that their more satisfied with their law firms -- but they're assigning less legal work and expecting to pay fee increases of only 1.52%, according to the 2010 ACC/Serengeti Managing Outside Counsel Survey.
Other high points of the research:
The most pressing concern of corporate counsel is reducing the cost of law firm fees.
Clients want e-billing.
Although hourly rates still predominate, the use of alternative fees is growing.
A minority of in-house counsel are pursuing "convergence" (reducing the number of outside law firms) and a majority of corporations have increased the number of firms they use.
Companies are issuing more RFPs.
Clients expect discounts for early payment.
Most corporations require budgets for at least some of the legal matters.
First the good news: For the second year in a row, the survey collected data regarding the ACC Value Challenge. In a reversal of last year's results, for 2009, a majority of in-house counsel (59%) believe that the value of the work performed by their outside counsel, taking into account the cost of their services, did not decline during the past year, perhaps due to greater focus on value being brought to bear by in-house counsel through means such as the ACC Value Challenge.
Alas, more legal work is staying in-house. Law department spending as a percentage of company revenues increased by 35%, but spending on law firms as a percentage of company revenues increased by only 14%. "Over the last decade, the annual increase in law firm hourly rates has fallen dramatically from over 9% in 2000 to this year's increase of 1.48%, the lowest in the survey's history. Furthermore, in-house counsel predict that this record will hold at least for the coming year—projecting on average an annual increase of only 1.52%. These numbers clearly show the impact that in-house counsel and a weak economy are having on their law firms' power to increase revenues each year simply by raising their rates."
For the full article, visit the LawMarketing Portal at www.lawmarketing.com.