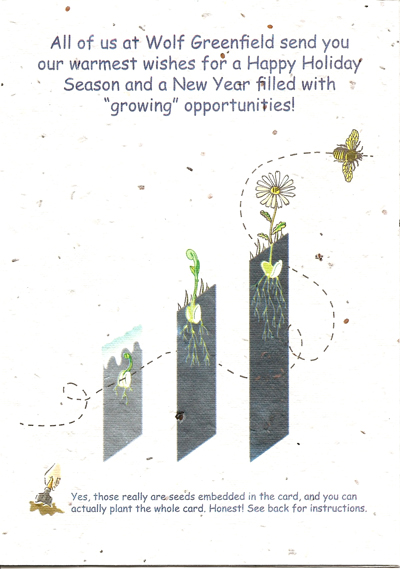 Always the innovators, the marketers at Wolf Greenfield in Boston have sent out a novel holiday card literally wishing recipients a new year "filled with 'growing' opportunities." They're serious. You can plant the greeting card in the ground and it will grow bee-friendly wildflowers. The seeds are embedded in the paper itself (see the speckles in the graphic).
Inside the card has funny tips, like, "Our Electrical & Computer Technologies Group cautions you to NOT use your computer screen as a light to grow these seeds" and "A warning from out Pharmaceutical Group: there is no medicinal value in eating this card."
The card is produced by Sprouts at www.sproutem.com. A warning in the card states that "our Litigation Group members have secured a preliminary injunction from anyone else sending a card that looks like this."
As it would turn out, my friend and CRM expert Chris Fritsch of ClientsFirst Consulting in Atlanta has for years been handing out business cards from Sprouts that if planted, will also grow wildflowers.
I guess there's no monopoly on a great idea!